Pennsylvania's Infrastructure Matters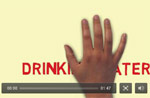 Most of us take infrastructure for granted in our daily lives— whether it's an easy commute across roads and bridges, clean drinking water and streams, or reliable energy to power our electronics. Infrastructure also moves our economy taking goods from ports to roads to store shelves and moves workers from their homes to their workplace. In fact, Pennsylvania's roads carry 34% more goods across the Commonwealth than the average state making it critical that roads and bridges are able handle the loads and keep us moving.
While we may not think about infrastructure every day, Pennsylvania's civil engineers do because they've pledged to build it, maintain it, and keep the public safe. Every few years, Pennsylvania Sections of the American Society of Civil Engineers (ASCE) provide a Report Card on Pennsylvania's Infrastructure so that each citizen and decision maker can understand how Pennsylvania's infrastructure is doing. This 2014 Report Card on Pennsylvania's Infrastructure shows our leaders have taken big steps forward to address the immediate and long-term infrastructure needs of the Commonwealth, but the work to improve our aging infrastructure is just beginning. From water to roads to waterways, our infrastructure grades show that we must prioritize strategic assets and build infrastructure that protects our economic prosperity and our citizens. By tackling our infrastructure's needs today, we can start
BUILDING BRIDGES TO THE FUTURE.